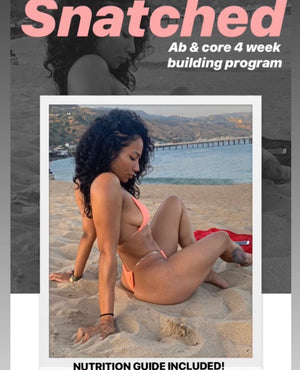 Snatched Ab & Core 4 WK Program
HAPPY FIRST DAY OF SUMMER 2019!
Whooo hoooo! YOU CAN STILL GET ABS!!
Snatched Ab & Core program is a 4 week 28 day Ab training program which requires & clean eating regimen that "MUST BE FOLLOWED!" You can't train with pride and dignity if you are eating crappy! We have goals to meet and waists to snatch so we MUST do this the right way! :-)
This program provides workouts that target the upper abs, lower and entire core with a low carb nutrition plan. The nutrition plan includes over 100 pages of GOODNESS! ..a grocery list, few recipes and pre-counted macros & calories meals. You will also  have access to the Snatched FB group chat and a list of Ab & Core workouts!  
Remember abs are made in the kitchen I can't stress enough how important diet is to obtaining a Snatched waist! 
If you have any questions prior to starting the program or after reach out anytime!